Content Strategy
The right amount of graphics is included to highlight the facts and concepts that show your target audience that investing in your company will produce positive financial results.
PDPA Compliant and https Secure
Our information library stores and records every update and change in compliance with regulatory laws, ensuring clear and accurate company communications.
Flexible Design & Development
Your website will not only be fully responsive and adaptive to any device, it will be ready to meet the challenges of new innovations in the industry and future company challenges.
Around-the-Clock Client Services
With our 24-hour proactive support team, security is heightened and we are there for you when you need to make a change, an announcement or need help. It's like having your own private online butler around the clock—and it's all included in your Optiwise Privileges.
Data Services
The Information Explosion has arrived. A vast amount of data is available, changing rapidly and nonstop.
Public companies in the modern world must have an efficient and effective way to communicate effectively with their investors and customers. Data and information management is the single greatest need for a corporation today and tomorrow.
This is why today's companies come to Optiwise. Our services help you to organize all the relevant information through your own website, store it with our state-of-the-art Information Bank, and comply with current regulations and requirements.
Communication tools
Reach More Audiences, With Less Effort.
Optiwise converts your presentations into a webcast and helps make your content available, globally. Our webcast service is ideal for company announcements, investor relations presentations, seminars and annual shareholder meetings, and other legally required distributions. — and we don't only have just a webcast, we have many tools to support your corporate communication.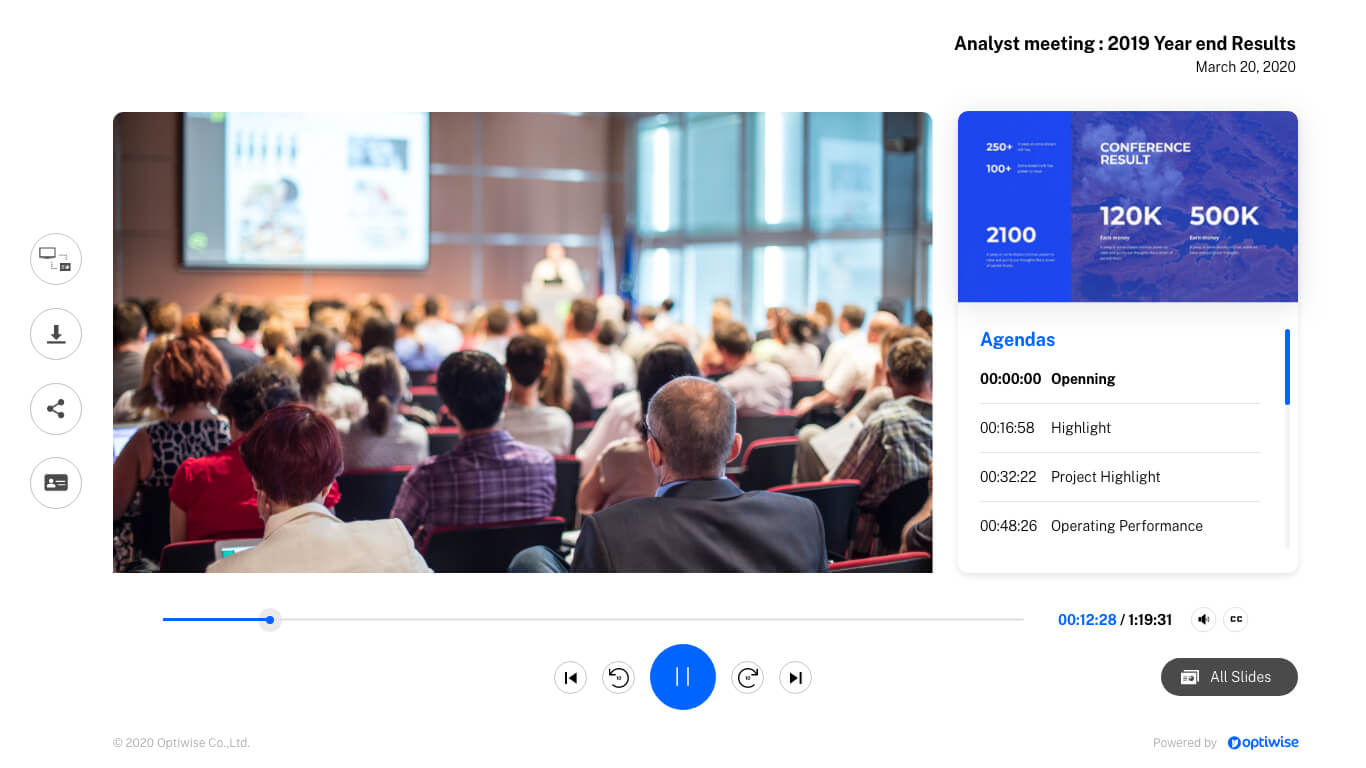 We do all the Heavy Lifting
Technical Support and Maintenance
24/7 Support
We are on your schedule. When you need to make a change, we get it, Rest assured our team is there and ready to help at a moment's notice.
100% Full Time Client Services
Reduces your security risk.
Unlimited Changes & Updates
All included, our team of designer and engineer will make it happen without charging you extra.
Statistics Report
Monthly Visitor Report via Google Analytics.
Up-to-date Technology
To ensure that your website works well and compatible with different devices.
Support & Bug Fixing
Promptly support to config and fix errors throughout the entire contract period.
It's All Covered
We cover all licensing and tech requirements and provide you with a website that can manage the data feed and all in-house communications with confidentiality and security.
Material Licenses
Cover all material licenses that use in your website such as Stock Information, Fonts, Chart, Icon, Photo etc.
Cloud Computing
Cloud-based storage makes it possible to save your data and retrieve them on demand.
Transactional Email
Transactional Email Service with Exceptional Delivery
Domain and SSL
All inclusive Domain and SSL registration
Infrastructure and Security
Cloud Security
100% secure with compliant to Cloud Security best practice
Unlimited Storages
Hosting information on cloud computing with unlimited storages and bandwidth
Web Performance
Ensure optimum performance by complying enterprise-standard best practice
Uptime Monitoring
24x7 Uptime Monitoring
Daily Backup
Daily Backup for website and database
We'd love to show you how Optiwise works
Get answers to your unique questions, and find out why Optiwise is the right choice for your business.